LEESPORT, Pa. — When Sheriff Eric J. Weaknecht was asked to help raise money for muscular dystrophy in a celebrity cow milking contest on opening day of the Berks County Fair, he didn't hesitate.
"They sent me an email and asked if I would participate and that it was for a good cause, and I said 'sure,'" the fourth-term county sheriff said.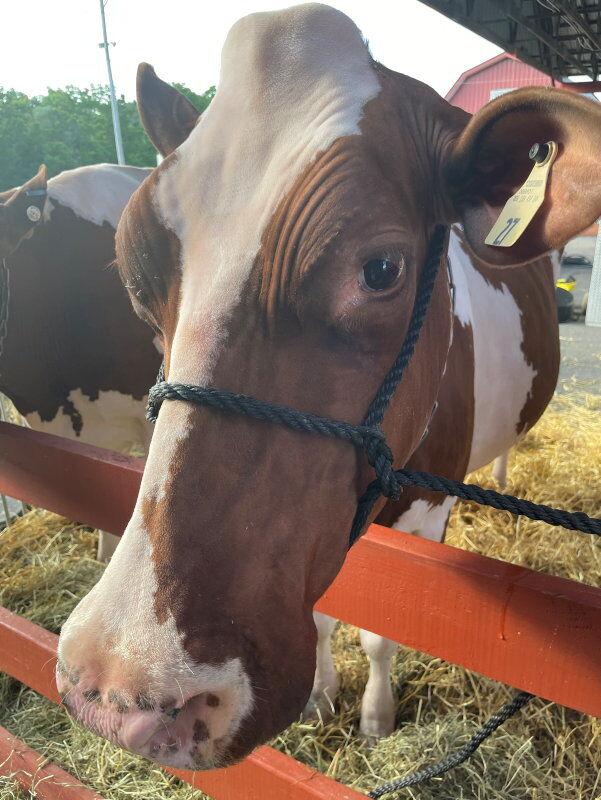 What he hadn't realized when he agreed to join Greener Pastures team member David Stonesifer, of accounting firm Herbein + Co., was that the event would take on added significance.
The contest was pretty straightforward. Three two-person teams raced to coax the most milk from a cow in six minutes.
Team Liquid Gold took a comfortable lead as team captain Penelope, a 4-year-old Red and White Holstein, practically milked herself. Meanwhile, Weaknecht confessed to "zero" experience in the arena he was about to enter.
"Not even a YouTube video," he said.
Weaknecht's tone became more somber as he glanced over at his own team captain, Spicy, a 5-year-old Red and White Holstein, and reflected, "Spicy's tag number is number 27, and that was the badge number of a deputy that we lost in the line of duty 11 years ago. So maybe that's a sign, right?"
Last month, Weaknecht led the Thin Blue Line Heroes Ride. The fundraising motorcycle jaunt through Berks County remembers both that slain officer, county Deputy Sheriff Kyle Pagerly, who was fatally shot in June 2011 while attempting to serve a search warrant in Albany Township, and Reading police officer Scott Wertz, who was killed in the line of duty in 2006.
Perhaps Spicy's tag number was a sign.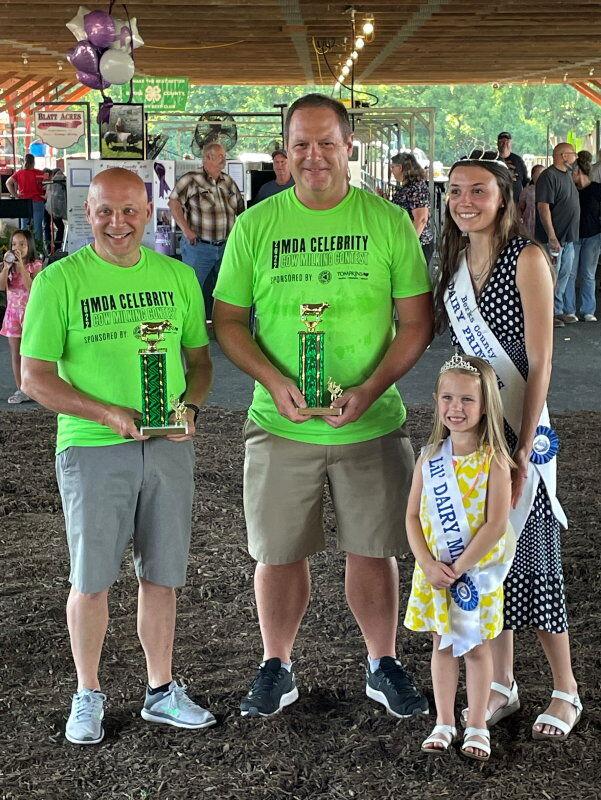 Despite some tough competition, Greener Pastures won the milking contest handily, and in the process raised $2,665 for the Muscular Dystrophy Association.
Other participants in the June 10 Tompkins Community Bank and Harley-Davidson Celebrity Cow Milking Contest had plenty of fun while raising money for disease research through donations made to each team prior to the event.
Reading chiropractor Patrick Borja of The Spine and Wellness Center may have discovered that milking cows is not all it's cracked up to be, despite being the only participant to fess up to having gotten in any recent practice.
"We're in it to win it," Borja quipped in about as serious a tone as someone donning a headband of black, white and pink cow ears could muster. "I went on a dairy farm a couple of weeks ago and got my first exposure."
"Yes," Borja said, he actually milked a cow.
Team Bossy Bessy co-conspirator Dot Basile of Classic Harley-Davidson in Leesport was also a potential ringer.
"Twenty years ago was the last and only time I milked a cow," she said.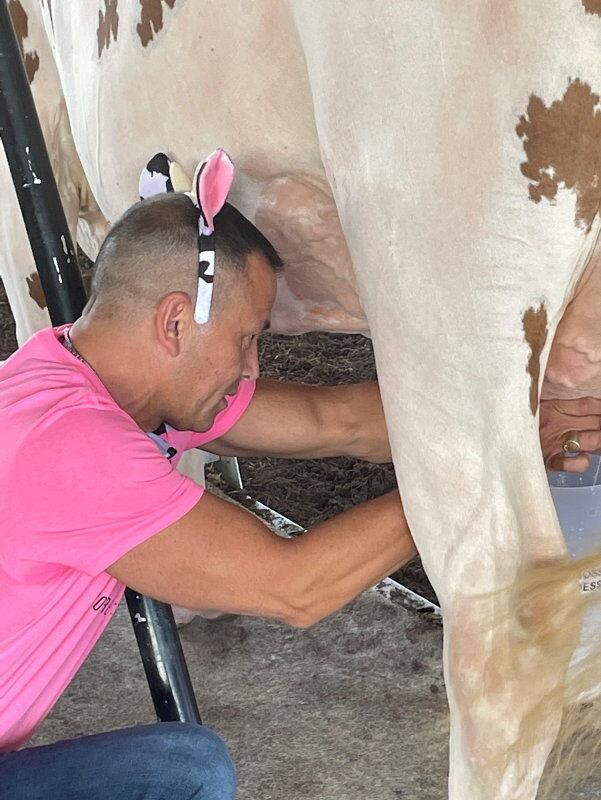 When the plastic pitchers each team member held for the other in three-minute heats were liberated of their contents into glass milk bottles for measurement, the other two teams' milk harvests made it to the brim and then some (the winning team had the most milk left in its pitcher). Team Bossy Bessy's payload only came to about half.
Not to worry, everyone received a trophy.
Master of ceremonies Lynette Gelsinger serves as agricultural relations manager for event sponsor Tompkins Community Bank and is first and foremost a farmer, she said.
Her contribution to the cow milking contest went well beyond commanding the microphone.
"We have an ag department, and we help farmers get loans or purchase farms or any other lending needs they have …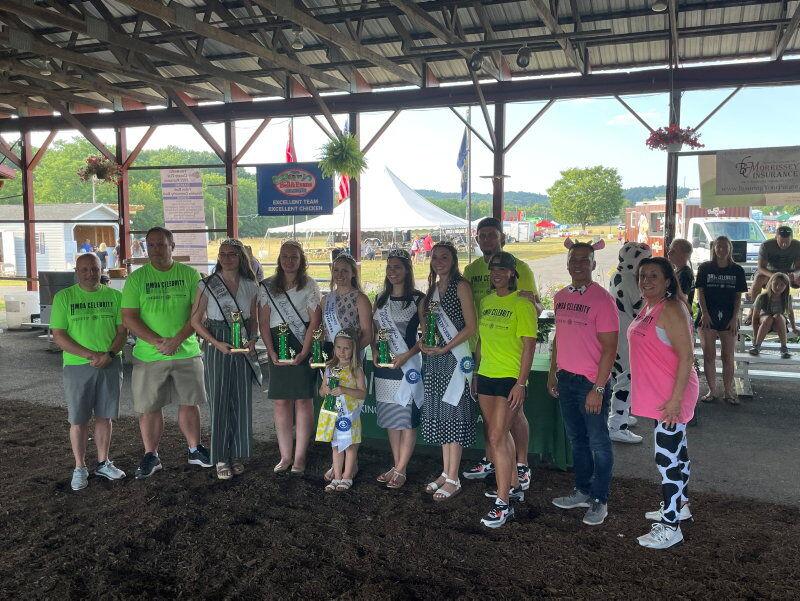 "But I also am a farmer, and these were my cows today," she said. "Spicy, Penelope and Trill are mine. So I'm a farmer, first and last, every day. I was raised on a dairy farm, and I still exhibit my cows."